CMTC is comprised of a four-day long weekend filled with seminars, workshops and competitions hosted and judged by top national and international modelling and entertainment industry reps.
Those who successfully audition and are invited to attend CMTC have the opportunity to compete in over 10 different modelling & talent competitions judged by the national and international industry reps who are scouting at CMTC.
CMTC's workshops & seminars provide education and interactive training by respected individuals in the modelling and entertainment industries. CMTC competitions provide contestants with industry experience and the opportunity to showcase their skills and talent in front of the industry's top career makers, scouts, and representatives.
Nowhere else will you find the right time and place where you can gain experience, showcase your skills, and meet career makers and like-minded individuals all in one jam-packed weekend!
Are You Interested in auditioning for CMTC?
Below you will find a list of competitions available to those selected to attend CMTC 2024. Each competition is designed to mimic real auditions, casting, and go-sees to provide contestants with industry experience. The competitions are judged by industry reps to maximize contestant exposure.
Slide your mouse over the competition you want more information about and click for the competition description, rules and regulations.
The program book contains the photos and contestant numbers of models/talent competing at CMTC. Appearing in the program book is an excellent opportunity for models/talent to be promoted to the agents, managers, and casting directors attending the convention. In fact, the "callbacks" section of the program book is designed for agents to circle the contestant numbers of models/talent that they wish to interview on the final day of CMTC; this allows agents to keep track of contestants that have piqued their interest throughout the week during competitions, workshops, and seminars. The program book also includes useful advice from industry experts as well as the names of individuals and businesses that have sponsored models/talent.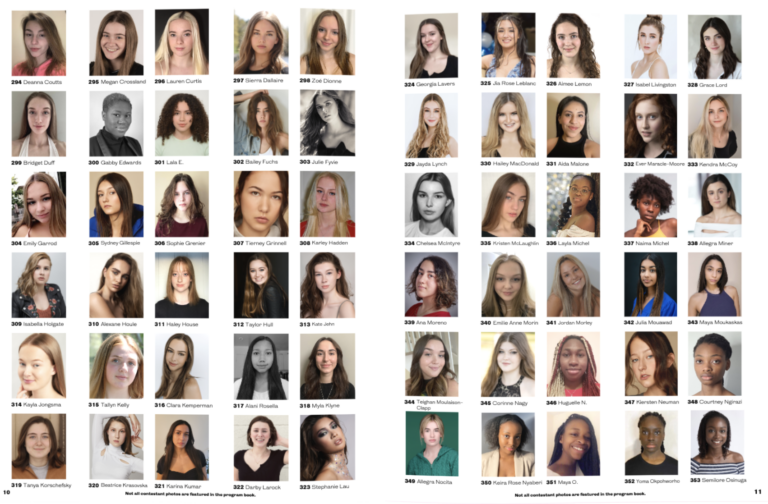 Our host hotel the Toronto Airport Marriott Hotel offers an indoor heated pool, fitness centre, on-site parking, a restaurant, and a complimentary shuttle to and from Toronto Pearson International Airport. Wayside Social is the signature hotel restaurant, offering flavourful fare for breakfast, lunch and dinner.  Just steps away from the hotel are a variety of restaurants such as steakhouses, Mediterranean, international cuisines, and more!
Attendees looking to book accommodations at CMTC's host venue, the Toronto Airport Marriott Hotel, are advised to do so as soon as possible. Be sure to reach out to the hotel directly to request accommodations within CMTC's room block to receive a discounted rate. Please note that a limited number of accommodations are available within this discounted room block. Once the room block reaches capacity, attendees must arrange accommodations outside the discounted room block.
The CMTC 2023 Itinerary provides a general overview of what takes place during the convention. The official CMTC 2024 convention itinerary will be published in the center of the CMTC digital program book. The link to the program book will be provided to CMTC contestants during Event Check-In. CMTC 2024 contestants will also receive a copy of the official CMTC 2024 Itinerary in their registration package at Event Check-In on May 1, 2024. 
At CMTC, we encourage making connections with like-minded individuals. Each year we host two Theme Party Dances on the Thursday night and Friday night of CMTC.   The Theme Party Dances are open to all contestants and visitors. They are not mandatory, however, they are a lot of fun if you like to dance, dress-up, and socialize! 
CMTC is proud to support Kids Help Phone through our Embody Kindness Campaign. Each year we are excited to host a Pink Party theme dance on the Thursday evening of CMTC. There is a "toonie" entrance fee at the door of the dance, with all proceeds going toward Kids Help Phone. 
CMTC 2023's Embody Kindness Ambassadors were CMTC alumni singer & actor Jadyn Rylee and CMTC alumni actor Ava Louise Murchison. Both Jadyn and Ava Louise returned to CMTC 2023 to support the campaign, attend the Pink Party and meet contestants and visitors. We love to see all contestants, visitors, special alumni guests, and staff show their support for an incredible cause!
On the Friday evening of CMTC, the theme of the Theme Party Dance is Fashion Crimes. We invite contestants and visitors to wear clashing colours, loud patterns and display the worst sense of style out for a night of fun.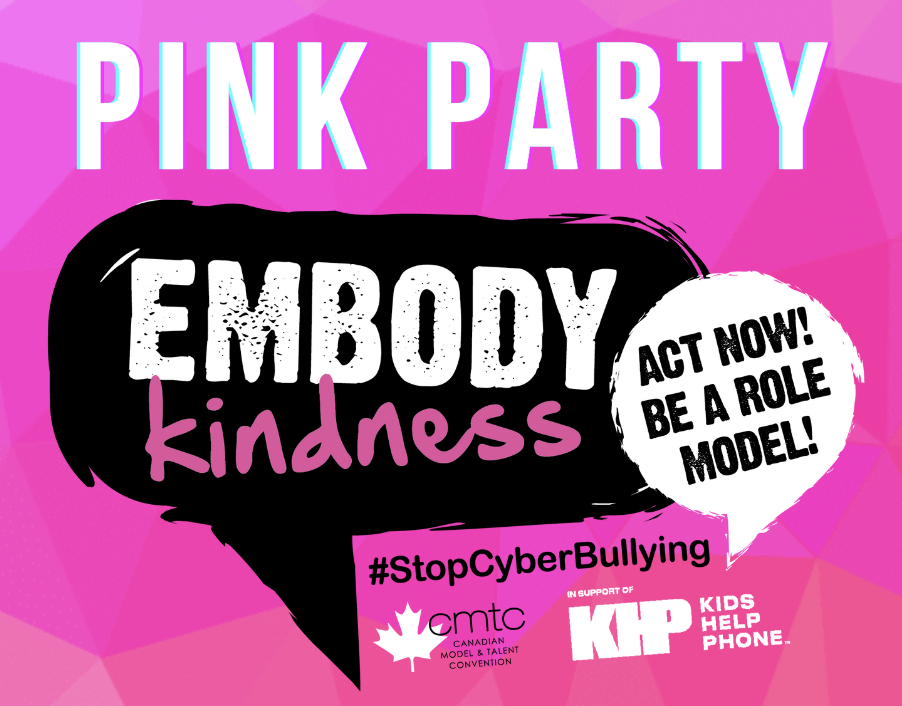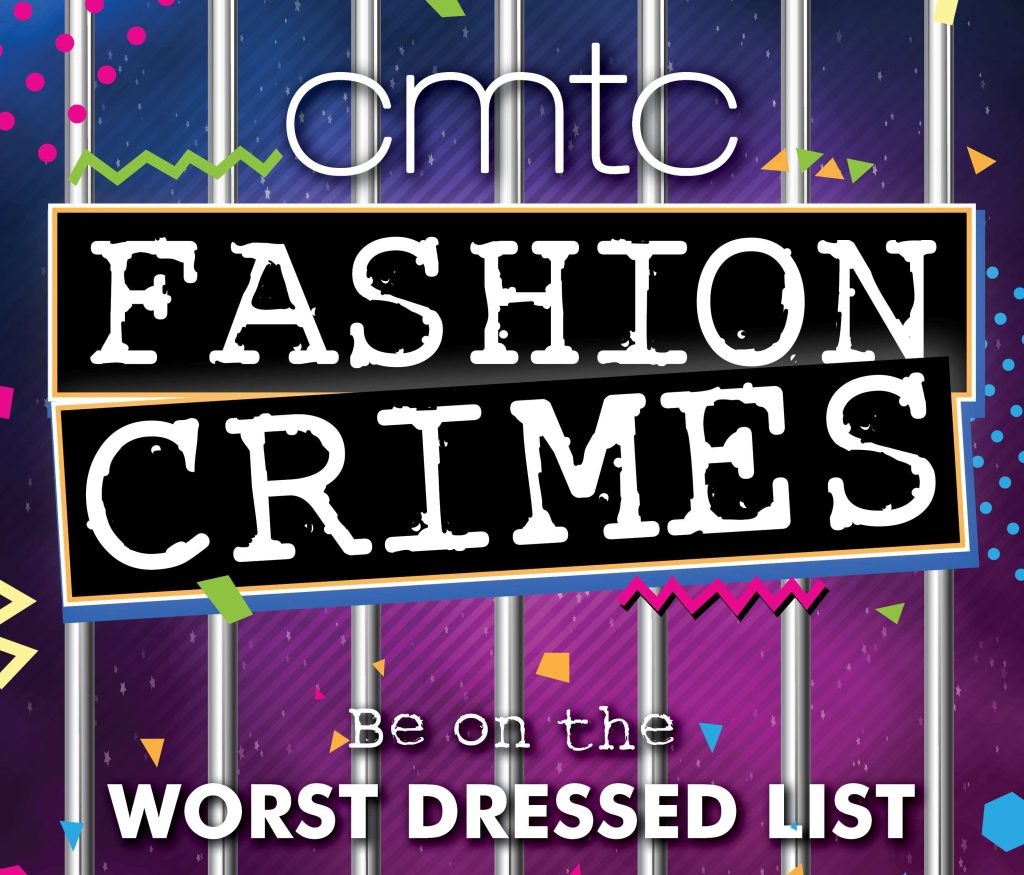 The CMTC awards ceremony is a night of celebration honouring participating models/talent for their many efforts and successes throughout convention weekend. Highlights include a cocktail reception with hors d'oeuvres, the presentation of awards to top contestants, and a dance party. This is a time for models/talent and their families to reflect upon what they have learned about the business, the friends they have made at CMTC, and reaffirm their drive to achieve excellence in the modelling and entertainment industries.
Below you will find the criteria associated with CMTC's overall and grand overall awards. To ensure fairness, the highest and lowest scores are dropped, and the remaining scores are totalled to produce the contestant's overall score. Contestants knowingly competing in a division other than the one they have registered for will be automatically disqualified at the discretion of CMTC and the judging panel. Contestants who do not abide by competition rules and regulations will be automatically disqualified at the discretion of CMTC and the judging panel. Furthermore, CMTC and the judging panel reserve the right to disqualify contestants who do not act in a professional manner or do not abide by the terms and conditions set forth in the Attendee Terms and Conditions agreement.
Overall Divisional Model Awards Criteria​
Grand Overall Model Awards Criteria
Grand Overall Actor Awards Criteria
Overall Divisional Model Awards Criteria​
Overall divisional winners are based on the highest total score across all mandatory competitions listed below. In order to qualify for their respective overall divisional model awards, contestants listed within the Child 4-7, Child 8-11, Female 12-15, Female 16-19, Female 20+, Male 12-17, and Male 18+ divisions must enter the following competitions:
Runway
Photography Go-See
Cover
Grand Overall Model Awards Criteria
Grand Overall Actor Awards Criteria
Advice from TOP INDUSTRY REPS WHO ATTEND & SCOUT AT cmtc
"Be yourself and shine! Relax and remember that no matter what the outcome of the competitions, everyone who participates gains valuable insight and knowledge of the modeling/entertainment industries and what an amazing opportunity to meet agents from around the World. Everyone walks away a winner! I look for shiny happy people who are beautiful, confident, talented, and who have a kind, outgoing, and friendly personality that attracts others and leaves us wanting more!"
Shane Aguanno
Area Mgmt, Bangkok, Thailand & Quest Models, Hong Kong
"GO BIG! You don't want to look back on your performance and wish you "went for it." Just do it. Remember to be confident, have a charming personality and have a passion for acting."
Anna Lewkowska
Arc Artist Management, Los Angeles, USA
"Focus on enjoying the experience. Whenever you are feeling nervous, flip the script and translate those nerves into excitement – instead of, "Oh no, I am so nervous, I hope I do well!", tell yourself "I am just so excited for this amazing opportunity to show off my great talent and begin my journey! This is the most fun I've ever had!" Something inside you will change, and the agents will notice it. You become more comfortable in the moment, and your confidence and joy for doing what you were born to do shines through. Focus on being grateful and happy to be here, and we will not be able to take our eyes off of you!"
Anthony Tilli
Abbey Lynn Models, New York, USA
"Show your PERSONALITY, PERSONALITY and more PERSONALITY! Where you've always heard.."Don't judge a book by its cover"..in this industry, that is the very first thing that Agents do...Judge a "book by its cover"…remember, we don't know you so it's imperative that you make not a good but "Great" first impression. Be polite and engaging (friendly)…remember positivity attracts positivity. After PERSONALITY…comes…CONFIDENCE, know the difference between being CONFIDENT and being CONCEITED...In this industry, it's all about CONFIDENCE!!"
Charlie Winfield
FunnyFace Today, New York, USA
"Know that it is a long journey, not a sprint. Know that it is ever so important to continue to hone your skills. Know that your attitude will have an influence on not only your choices but how people will receive you. Know that you have God-given talents to be used with grace, kindness, and humility. Remember these points in both the down times and the good times and you will achieve your goals."
Terrie Snell
TalentInk, Los Angeles, New York & Chicago, USA
"Work ethic beats talent, so be ready to work. The good news is, if you love what you do, it rarely feels like work. Pay close attention to trends and educate yourself as much as possible. For singers, see who's charting, keep an eye on Spotify, and look for any opportunity to network and perform in front of audiences. Dedication and a good heart. Music is so powerful, and we need more role models willing to help lead future generations."
John DeGrazio
Watersound Entertainment, New York, USA
"The modeling industry is incredibly competitive, so be prepared to hear "no" a lot more than you hear "yes." Stay positive and try not to dwell on the outcome of every little casting or go-see — rather, shake it off, understand that every model has their own unique path, and trust that your agency knows what's best for you!"
Jessie Sardina
MP Management, Chicago & Miami, USA , Milan, Italy, & Paris, France
"Be professional. Show up. Don't try to be anyone else. Keep your photos current- make sure they look like YOU. Personality is everything, I am looking for the full package- looks, personality, talent, and overall star quality. Stay in training!"
Jaclyn Hergott
10 MGMT, Chicago, USA
"If you never face challenges in life, you will never reach your full potential. Remember it's all about personality, originality, and determination."
Jacob Schott
TalentInk, New York, Los Angeles & Chicago, USA
"Be prepared and be yourself! We want to find someone who TRULY loves to act, and shows that through their performance. If you really want to be an actor, show me that through your attitude, preparedness, personality, and willingness to take direction and learn."
Chelsea Streano
Artistic Endeavours, Los Angeles, USA
"Always work on your craft and push yourself to really do your absolute best. Remember it's the little things that count. Always be on time, always be prepared, always be professional, and always communicate with your Agents and Manager. And of course, make sure to have fun and enjoy yourself."
Aaron Sacks
Bohemia Group, Los Angeles & New York, USA
"Open your mind, explore your talents and stay teachable. Don't set limits and boundaries according to what was created or accomplished in the past. Most of all, don't allow people to set boundaries for you. Never stop working and reaching to achieve what you truly believe in."
Deon Herring
Jaded Records, Atlanta, USA
"Remember to be yourself! We are looking to cast people, not just talent. Command the room with your talent - we want you to draw us in and make us want to see more! Show us what makes YOU special and unique."
Katie Proctor
RWS Entertainment Group, New York, USA
"DO SOMETHING EVERY DAY TO BECOME A BETTER ACTOR. See a play, read a play, watch a movie, watch TV shows (especially ones you may be auditioning for), read biographies of your favorite actors, work on a monologue, do vocal exercises if that's your thing, listen to soundtracks, learn and sing the songs, work on your body. You don't have to spend money on a class or wait for a job in order to work on your craft. I want someone who is present and actively listens. I look for committed, truthful, interesting choices. Actors who can own their truth and authenticity."
Millie Tom
Millie Tom Casting, Toronto, Canada
"Authenticity is key!!! Allowing one's true authentic self to be at the forefront of his or her personality will pave the way to confidence, strength, resilience, and some great bookings along the way.
Eric Granwehr
APM, New York, USA
"Have fun! Enjoy the experience, take your time, take it all in. Help & inspire each other. Success does not happen overnight. If you work hard success will follow you, enjoy the journey!"
Shawn Brogan
The Brogan Agency, Los Angeles, USA
"'PSS'!!! Always be Punctual, keep in Shape and Smile!!! For the Tokyo market, we look for unique models. We don't just look for cute and handsome models, but we also look for someone who is a different character from other models."
Tomoe Yasumoto
Cinq Deux Un Co, Tokyo, Japan
"My best piece of advice for new models and talent would be to listen and do your research. I look for models with complete confidence and a great personality."
Rachel Payne
JAG Models, New York, USA
"Do your best to be ready and stay ready. If you believe in yourself and keep going, you'll definitely achieve your goal in one way or another. I look for talented models with spirit, who spend time training to become better."
Jean Song
JS Agency, Seoul, Korea
"Be yourself and remember to always have fun with whatever you're doing. Besides the standard physical requirements, I look for unique and lovely personalities, hard work ethics, and strong drives."
Austin Rubino
New York Models, New York, USA & LA Models, Los Angeles, USA
"RELAX - Easy to say, but hard to do. Relax yourself is the best solution upon any situation rather than pushing yourself too hard. BE POLITE - There's an old saying in Asia: "People can't slap on a smiling face." As long as you behave and always be polite to people, nothing could go wrong. Free your limitation, just try your best. DREAM BIG- Asia market is good for practicing and training, sometimes work might be hard, but please remember, Radiohead wasn't a great band at the beginning."
Steven Kang
Dolls Model Management, Taiwan & China
"Be confident and be yourself! Beauty comes in so many different forms, what's on the inside is just as important as the outside. We're looking for a certain look, but also personality is so important and we're looking for girls that aren't afraid to be themselves and let that shine through."
Ariana Cullen
One Management, New York, USA
"Be yourself! I am looking for a muse, someone outstanding who has a great presence, is creative, passionate and kind!"
Monika Kielczewska
The Society Management, New York, USA
"There's a lot of beautiful models, but only a few of them really rock the industry. Be brave and be a unique one."
Nicola Casini
2MModels & The Wolves, Milan, Italy
"Two of the most important things are the most easily overlooked- work ethic and perseverance. Tough industries reward those who can stick it through the difficulties and disappointments because nothing worth having comes easy. Besides the two mentioned above, we look for a combination of look, talent, personality, and confidence. You need all of those attributes to succeed in this business."
Ray Miller
Archetype, Los Angeles, USA